Spring Graduates Honored At Recognition Ceremony
Graduating students in the School of Performance, Visualization and Fine Arts were honored at a May 12 recognition event at Geren Auditorium, prior to the graduation ceremonies that night and May 13 at Reed Arena.
A total of 95 students — 80 undergraduates and 15 graduates — from dance science, performance studies and visualization earned their degrees this semester. All graduates at the event received Certificates of Recognition, and six earned Distinguished Student Awards.
Tim McLaughlin, interim dean of the school, gave opening remarks, saying he hopes students understand that graduation is "just the start of learning." He compared it to his memories of understanding the experience levels of martial arts, and thinking that reaching black-belt status meant reaching the top level. His instructor clarified that was just the beginning: "You've hit the point where now you're ready to actually begin the real learning that takes place."
"I feel like that's where you all are," McLaughlin said. "You've got your black belt. But recognize that as you move forward, what we've hopefully done is equip you to really begin to learn."
McLaughlin said he hoped the students would surround themselves with friends and partners who continue to learn. A workplace should have the ability to adapt and change what it does and how it does things, he said.
"What I know and what everybody else here on the faculty knows is that the knowledge you have right now will get you in the door and get you started," he said. "The ability to take in new knowledge is what will lead you to success. So I wish that for you."
Distinguished Student Awards
Karagan Weld
Weld earned the Distinguished Student Award for the Bachelor of Science in dance science. She will now start a three-year doctoral program in occupational therapy this summer at Texas Woman's University in Dallas.
Carisa Armstrong, dance program director and associate professor, described Weld as "very mature and wise beyond her years." Weld appreciated all forms of dance, Armstrong said, with an equal love of science.
"That is what our program is all about, and how those two worlds live together," she said. "That intertwining of knowledge about the body and how we learn things is exactly what has driven her toward her next step in her profession."
Samuel Gay
Gay was honored with the Distinguished Student Award for the Bachelor of Arts in performance studies.
Dr. Kim Kattari, associate professor and program director for the Bachelor of Arts, noted that Gay began the major when COVID-19 struck in 2020, and was inspired by how art and performance are vital in "sustaining us through a time of crisis."
Kattari described Gay's performance titled "I'm Sorry," which addressed grief and anxiety through a character calling an answering machine of their partner who had died.
"It was extremely moving and impactful," she said. "Many of us still talk about the impact of that piece. The professor for the course, Dr. James R. Ball III, said that their work was precisely the sort of work he hopes students will do, connecting the degree to their interest in really effective ways."
Emma Krilowicz
Krilowicz earned the Distinguished Student Award for the Bachelor of Science in visualization. Mayet Andreassen, instructional assistant professor and associate program director for the Bachelor of Science, described Krilowicz as "a thoughtful and diligent artist" who freely gives her time to peers and others.
Andreassen pointed out Krilowicz's role in the Summer Industry Course in 2022 as one of the few undergraduates accepted into the graduate-level class. She took on grooming for one of the four projects, creating a hair simulation with minimal initial experience.
"She's done an amazing job at character surfacing and grooming, which is a very challenging topic and is not usually approached by students in our program," she said. "She has shown dedication by exhibiting leadership, drive and an impressive work ethic."
Devante Allen
Allen was honored with the Distinguished Student Award for the Master of Arts in performance studies. Allen was not able to attend the event, but Dr. David Donkor, associate professor and program director for the Master of Arts, noted Allen's impressive credentials, including degrees in clinical psychology, linguistics and Chinese, and that Allen serves as a spiritual wellness counselor and martial arts instructor.
"Driven by his passion, compassion, meticulous research and dutiful determination, his Master of Arts project and performance portfolio proved to be an intriguing immersive exploration of ritual and wellness," Donkor said, "particularly ways of healing intergenerational drama at the intersection of martial arts, storytelling and meditational practices."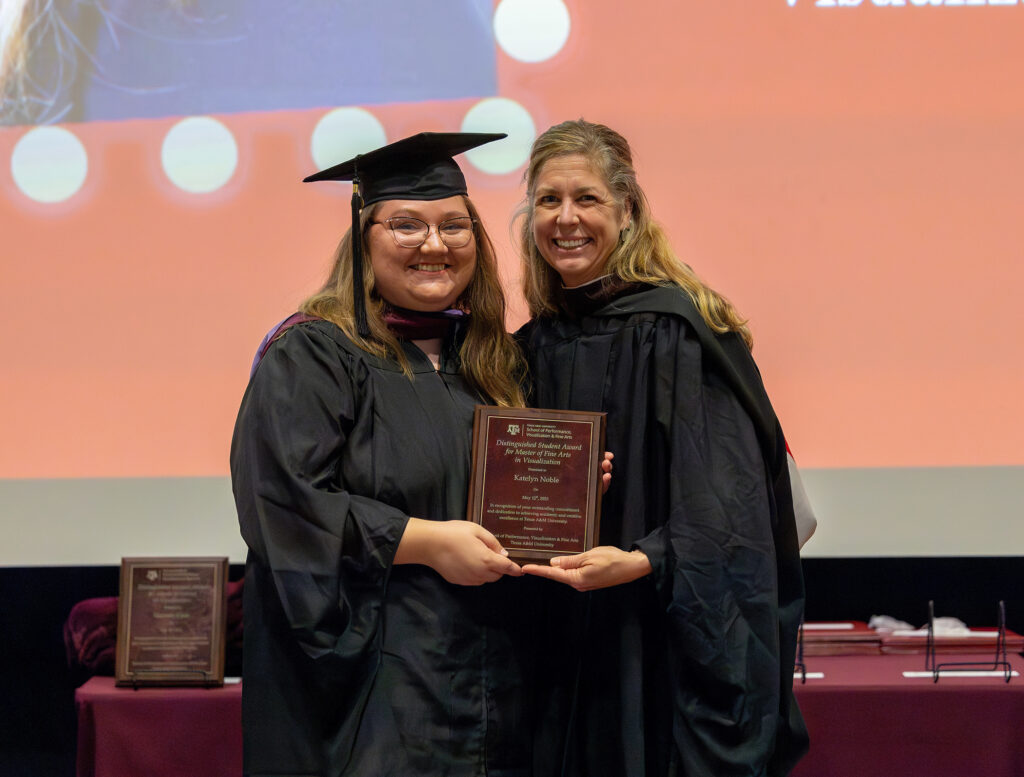 Katelyn Noble
Noble received the Distinguished Student Award for the Master of Fine Arts in visualization.
Courtney Starrett, graduate program director for the Master of Science and Master of Fine Arts in visualization, said Noble "has been deeply invested and involved in visualization, going above and beyond to share her time and talents as a mentor to undergraduates and fellow graduates."
"She is a passionate and natural teacher," Starrett said. "In her nomination letter, a faculty member said, 'Katelyn's ability to relate to students has raised the bar in classroom performance as she brings them from where they are through to the other side, understanding and practicing the foundations of art in terms and subject matter that are important to our students."
Hannah Klein
Klein was honored with the Distinguished Student Award for the Master of Science in visualization.
Starrett quoted capstone committee chair and associate professor Felice House in praising Klein's capstone project, a re-creation of Giuseppe Arcimboldo's "Four Seasons in One Head." House described the original as "a highly unusual and somewhat disturbing painting depicting over a dozen distinct plants including fruit, vegetables, flowers, moss and a tree in the shape of an old man's portrait."
"Hannah carefully studied and researched each distinct item by consulting horticulture experts, visiting flower and grocery stores and doing research to discern the exact plant depicted," House wrote. "She modeled, textured and surfaced each item, aligned seamlessly with the original painting. The result was stunning, and not unexpected from this capable young woman."
Closing Thoughts
Christine Bergeron, clinical professor and associate dean for academic affairs, wished the graduates well in their future careers.
"Before you proceed to the next journey of your lives, take a moment to reflect on the time you had here at Texas A&M University, what you've learned in your degrees and the people you've met, whether they are professors or hopefully lifelong friends," she said. "You each made a mark while you were here, and you made a lot of memories along the way. Be proud of yourselves and all you have accomplished. We are proud of you."