The IAC is committed to supporting all forms of student creative works. Browse through our collection of news articles and project highlights to learn about the IAC's innovative vision.
IAC teams with major entertainment studios to teach STEAM principles in Texas
Project CHISPA (Calculation, Hi-tech, Imagination, Systems, Procedural, Art) aims to provide middle school students with an opportunity to imagine how math, science and coding are a bridge to creating the fantastic environments they enjoy in video games and films.
Along with major entertainment studios, our project utilizes the principles of STEAM education and digital world-building as a way to combine creative freedom and 3D modeling techniques with design thinking. Texas A&M students will partner with 5th to 8th grade students in Texas to create imaginary worlds using game engines.
For more information please contact Monica Vega at ​mvega93@tamu.edu​ or download the illustrated Chispa Flyer pdf.
Sponsored by the School of Performance, Visualization & Fine Arts and InnovationX
---
Integration of STEM, Humanities and Arts in Undergraduate and Graduate Education: Branches from the Same Tree
With grant support from the Andrew W. Mellon Foundation and the National Endowment for the Humanities, the National Academies has launched an Online Toolkit based on the 2018 report Branches from the Same Tree: the Integration of Humanities and Arts with Science, Engineering and Medicine in Higher Education. The toolkit is a resource for faculty and practitioners interested in developing integrative courses or curriculum. Town Halls and other outreach activities will resume in Fall 2020, with visits already slated for the Fall (including visits to the University of Illinois Urbana-Champaign, Dartmouth University, University of Utah and University of Montana) and several Community Colleges. This study was designed to offer a greater understanding of the groundswell of programs and courses across the United States—at a range of different institutional types—that are seeking to break down disciplinary "silos" through interdisciplinary, multidisciplinary and transdisciplinary educational approaches. Under the leadership of David Skorton, the former Secretary of the Smithsonian Institution, the committee examined "the evidence behind the assertion that educational programs that mutually integrate learning experiences in the humanities and arts with science, technology, engineering, mathematics and medicine (STEMM) lead to improved educational and career outcomes for undergraduate and graduate students." For more information on the report, please visit the project website. For inquiries about town halls, please email Irene Ngun (ingun@nas.edu).The IAC co-curated examples of transdisciplinary work in chapter 16 of the NASEM report.
---
IAC Fellow Rodney Hill named among top ten most admired educators
Each year, DesignIntelligence (DI) conducts a survey of America's top architecture schools, ranking undergraduate and graduate programs from the perspective of practitioners who hire graduates of those programs. The survey is sent, via email, to DI's expansive network of hiring professionals, who tell them which schools they Most Admire and Most Hire From and how recent graduates are performing in 12 skill areas. The Most Hired ranking was launched two years ago and combines undergraduate and graduate programs from each school, taking into consideration the number of annual graduates.
---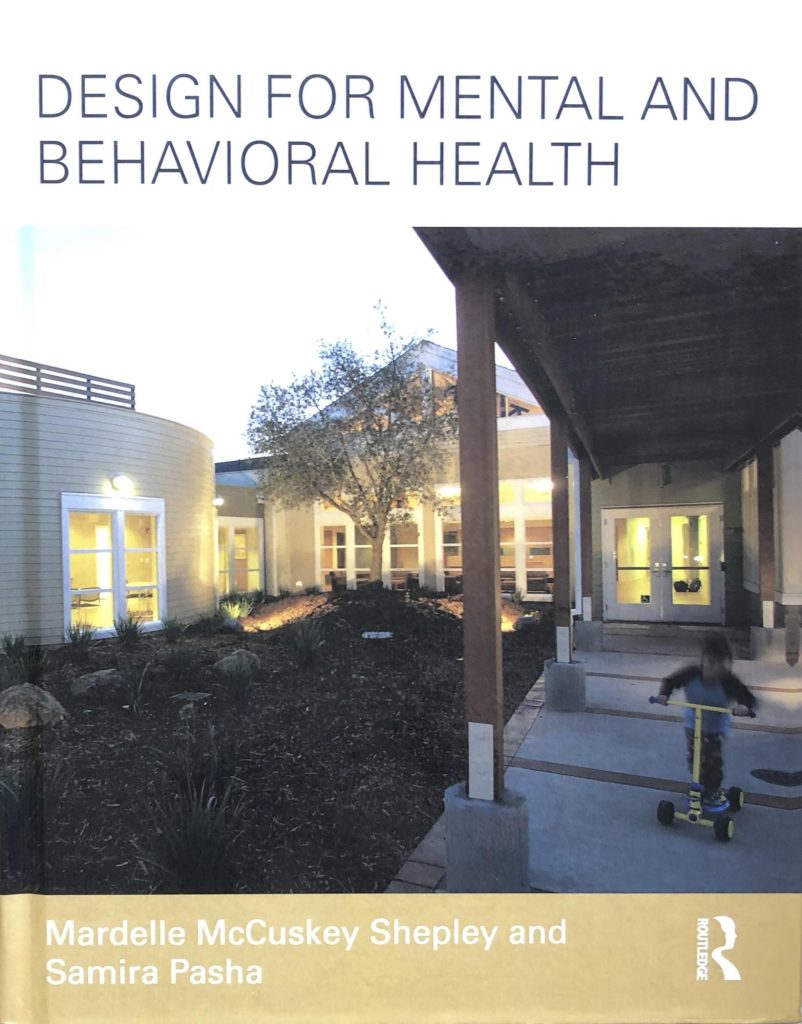 IAC Fellow Mardelle Shepley publishes book on mental health and the physical environment
Design for Mental and Behavioral Health provides designer with research information to guide the development of new mental and behavioral health facilities. In addition to the book, Shepley has published two papers based on the development of a tool used to evaluate these spaces:
Shepley, M. M., Watson, A., Pitts, F., Garrity, A., Spelman, E., Fronsman, A., & Kelkar, J. (2017). Mental and behavioral health settings: Importance & effectiveness of environmental qualities & features as perceived by staff. Journal of Environmental Psychology, 50, 37-50.
Shepley, M. M., Watson, A., Pitts, F., Garrity, A., Spelman, E., Kelkar, J., & Fronsman, A. (2016). Mental and behavioral health environments: critical considerations for facility design. General hospital psychiatry, 42, 15-21.
In addition to these papers and in reaction to the many and terrible recent incidents involving gun violence, her most current area of research is on the impact of urban environments on violent crime.
---
Visualization of bacterial interactions
Artists can play key roles in facilitating new perspectives for scientists. Complex biological systems often produce colors, shapes and patterns of movement. These visual cues highlight the beauty of living systems and suggest interactions among organisms, cells or molecules. Our collaboration focuses on patterns that we observe when different species of bacteria compete with each other. We use photography and time-lapse imaging to capture these dynamic interactions. For example, our work investigates how antibiotics produced by one species of bacteria cause a population of competitor bacteria to change the way it grows and moves. These changing patterns generate new questions that help us study and understand the biological basis of competition between species. By observing bacterial interactions, artists can stimulate new ideas to explore in a scientific framework. This is a work in progress among Dr. Paul Straight, Associate Professor, Biochemistry and Biophysics; Yongjin Liu, Ph.D. candidate, Biochemistry and Biophysics; Courtney Brake, MFA candidate, Department of Visualization; and Carol LaFayette, Harold L. Adams Interdisciplinary Professor in Visualization and Director, IAC.
---
Viz prof's advocacy culminates in NASEM report supporting STEAM
Whether regenerating the earth, feeding the world or colonizing space, tomorrow's thought leaders will be better prepared by an initiative integrating science and the arts, concludes a May 2018 landmark report from the National Academies of Sciences, Engineering and Medicine.
Championing the critical thinking and creative skills gained at intersections of art and science, the NASEM report validates efforts by Carol LaFayette, director of the Institute for Applied Creativity at Texas A&M University, who led a multi-year National Science Foundation-funded initiative aimed at elevating the role of art and design in STEM fields. Read more about the NASEM report here (PDF).
---
Upwell: Performative Immersion
Upwell is a mixed reality performance that was created from an ongoing collaboration between the Department of Visualization and the Dance Program. Upwell allows audience members to explore the virtual and physical worlds with two dancers. The environment provokes the feeling of being underwater. A dancer with a conventional VR head-mounted display and wearable controllers can navigate around a room scale virtual reality setup and interact with dynamic visual and sound elements. Since the dancer wears custom-made wearable controllers on the palms, they can make intricate gestures to develop direct relationships with bioluminescent particles in the virtual water. The other dancer only interacts with the visuals created by the VR dancer without realizing the virtual world.
Upwell consists of both virtual reality components and dance. The virtual reality custom controllers and environment were created by former students Michael Bruner and Nathan Ayres, along with faculty member Jinsil Hwaryoung Seo from the Department of Visualization. The dance choreography was created by former students Sarah Behseresht, Hannah Jenke and Kali Taft under the guidance of faculty members Alexandra Pooley and Christine Bergeron from the Dance program.
After students from both departments graduated, the project has been maintained and revised by Austin Payne (VIZ), VR developer. Current students Ashlyn Thompson and Kelsey Clark (Dance) modified the choreography and have been practicing. The project was recently accepted to the Art Track Performance program of the International Conference on Tangible, Embedded and Embodied Interactions (TEI) that will be held in Tempe Center for the Arts. This is a highly competitive venue that focuses on incorporating innovative technology and arts. The newly formed team will present Upwell at the TEI Performance show. This project provides a unique experience to the dancers as well as audience members, sharing virtual experiences through a projected illusion. This is a new innovation that allows a meaningful practice in the dance and interactive arts.
Upwell has been supported by AVPA (Academy of Visual and Performing Arts) and IAC (Institute for Applied Creativity) at Texas A&M University.Click here to see the project webpage.
---
InNervate AR: Creative Anatomy Collective
An ongoing collaboration between visualization and anatomy students dynamically interacts with canine anatomy using Augmented Reality.
Created by Margaret Cook, graduate student in the Visualization department, InNervate AR is a mobile application for undergraduate canine anatomy education. Margaret pushes the boundaries of anatomy education by offering students a set of dynamic interactions to demonstrate relationships between the nerves and muscles of the canine front leg.
A user can view the canine front leg on a mobile phone once a visual marker is scanned by the phone camera using InNervate AR. The user can then explore the bones, nerves and muscle groups. A second module focuses on nerves of the canine front limb, usually only labeled in diagrams for students. When anatomy students are asked questions about the repercussions of damage to various places along a nerve's length, they often have trouble mentally visualizing an answer. This mobile AR application offers the chance for students to view a "healthy" animation of the leg's range of motion. Next, the user has the ability to choose where they want to physically cut a nerve and then watch an animation that demonstrates which muscles have lost the ability to move. Therefore, students can better visualize how ranges of muscle movement are changed and affected, based upon which nerve functions remain.
Margaret and her research team aim to provide an engaging way for anatomy students to dynamically interact with anatomical content, and as a result, feel more confident in their clinical and critical thinking skills. This project is a collaboration between two colleges: Dr. Jinsil Hwaryoung Seo, Austin Payne and Michael Bruner of the Visualization department in the School of Performance, Visualization & Fine Arts and Dr. Michelle Pine of the Veterinary Integrative Biosciences in the College of Veterinary Medicine and Biomedical Sciences.
---
FOVI 3D: Technical Deep Dive
With Thomas Burnett, CTO; and Viz graduates Christopher Portales and Rathinavel Sankaralingam
Thursday, January 24, at 1pm – 4pm, Wright Gallery Lecture Room (ARCA 212)
This technical deep dive presentation will review:
What are light-field displays and why are they important
The application agnostic light-field display architecture being developed at FoVI3D
General light-field display properties and characteristics such as field of view, directional resolution, and their effect on the 3D aerial image
The computation challenge for generating high-fidelity light-fields
A display agnostic ecosystem
Human binocular vision and acuity, and the accompanying 3D retinal processing of the human eye and brain are specifically designed to promote situational awareness and understanding in the natural 3D world. The ability to resolve depth within a scene whether natural or artificial improves our spatial understanding of the scene and as a result reduces the cognitive load accompanying the analysis and collaboration on complex tasks.
A light-field display projects 3D imagery that is visible to the unaided eye (without glasses or head tracking) and allows for perspective correct visualization within the display's projection volume. Binocular disparity, occlusion, specular highlights and gradient shading, and other expected depth cues are correct from the viewer's perspective as in the natural real-world light-field.
Light-field displays are no longer a science fiction concept and a few companies are producing impressive light-field display prototypes. This presentation will review the application agnostic light-field display architecture being developed at FoVI3D. In addition, the presentation will discuss the significance, properties and characteristics of light-field displays as well as the challenge of the generation and distribution of radiance image rendering.
For the past 15 years, Thomas Burnett has been developing static and dynamic light-field display solutions. While at Zebra Imaging, Thomas was a key contributor in the development of static light-field topographic maps for use by the Department of Defense in Iraq and Afghanistan. He was the computation architect for the DARPA Urban Photonic Sandtable Display (UPSD) program which produced several large-area, light-field display prototypes for human factors testing and research.
More recently, Thomas launched a new light-field display development program at FoVI3D where he serves as CTO. FoVI3D is developing a next-generation light-field display architecture and display prototype to further socialize the cognitive benefit of spatially accurate 3D aerial imagery.
Presentation
Light-field display properties, architecture and significance
Holographic element (hogel) rendering
Hogel electronics development
Hogel optics
Calibration
Metrology
Simple cognitive based visualization
Heterogenous display ecosystem
FoVI's open source software, object graphics language (ObjGL)
FoVI's custom graphics hardware, multiview processing unit (MvPU)
Demo
Click here to view the presentation slides.
---
IAC Partners with Texas Target Communities to Engage Youth in Initiatives
Three teenage residents of Liberty County, Texas are posting ideas about improving their home county in a multimedia blog, "Trinity Time Hop," one of a set of ongoing Texas Target Communities initiatives aimed at helping residents of the rural area northeast of Houston shape their futures. Continue Reading (PDF).